August 2018 Newsletter

Parish Events
4th/5th
- 2nd Collection at all Masses for Black & Native American Missions
11th/12th
- Little Sisters of the Poor at all Masses.
14th
- Solemnity of the Assumption Mass (Holy day of obligation) at 4 PM
15th
- Solemnity of the Assumption Mass (Holy day of obligation) at 7:30 AM & 7 PM
19th
- Kenya Partnership Anniversary Tea, Church basement after 10:45 AM Mass
25th/26th
- Maintenance Collection at all Masses
St. Benedict wants to say "thank you" to St. Stephen Parish!
Join our Sister Parish for Mass on Sunday 8/5 at 11am, followed by an Ice cream social! Thank you for all of the support over the years of their neighbors by donating winter coats, clothes, and blankets!
Jambo Friends & Happy Anniversary!
It is time to celebrate our partnership's 19 year anniversary on the Feast of the Assumption of Our Lady. This year we will celebrate on Sunday, August 19th after the 10:45 AM Mass in the church basement. All are welcome! Those who wish to contribute to the tea can do so at the Sign Up Genius. Asante, Thank you for all you do for our sister parish in Kenya!
Kenya Partnership Anniversary Tea Social!
Each year on/near the Solemnity of the Assumption of Mary we celebrate our spiritual partnership with the people of St. Steven, Bomu. Please join us for afternoon tea following the 10:45 Mass on August 14th in the Church basement. Enjoy some refreshments and meet some of our committee members. All are welcome and we thank you, with this small gesture, for your continued spiritual and financial support!
Spiritual Oasis: Eucharistic Adoration will resume on Thursday nights, September 13, 6pm – 7:30pm in the Convent Chapel. Please join us for spiritual refreshment in the Lord's presence in the Eucharist.
Spiritual Oasis Suggested Summer Reading
During the summer months, when many people have more time for reading, you might enjoy the books listed below. They are available at the Baltimore County Library; the ones with asterisks are also available at the Harford County Library.
· Boundless Compassion - Creating a Way of Life by Joyce Rupp
· Hinds' Feet on High Places by Hannah Hurnard*
· The Hidden Life of Trees by Peter Wohlleben*
· The Return of the Prodigal Son by Henri Nouwen*
· The Way of the Heart - Connecting with God Through Prayer, Wisdom, and Silence By Henri Nouwen*
Our Lady, Queen of Families Rosary Guild
Will resume on Saturday, September 8th from 9am – 10am (2nd Saturday due to Labor Day weekend). The guild usually meets on the first Saturday of the month during the school year, in the Learning Cottage on the school lot. Please consider joining the Rosary Guild ministry to pray, make rosaries for our church as well as missions throughout the world and spread devotion to Our Lady! For additional information, please contact Jo Anna Schmidt at 443-286-2901. Our Lady of the Rosary, pray for us!
Coupons in Flight!
Cutting coupons help support US military families stationed around the world. No meetings or coupon collections May – August. To all of our generous coupon donors/clippers – please take note of the very specific instructions for cutting (just inside the black or dotted line, corners must be intact). Thanks for supporting our troops overseas!
Faith Fest Maryland
Coming in September. Sign up now to reserve your parking/entry to this free Catholic festival with lots of activities for all ages! You can view information, register, and check out volunteer opportunities at the website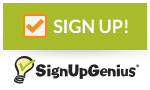 Sign up Genius: Click the logo to be taken to our parish events! You will need to create a username and password. Check the SUG often to see the latest opportunities!
Young Adult Ministry
Contact Info: kreynolds@archbalt.org (best)
or 410-592-7294
* Like our Face Book
* Check out our Pinterest
* Follow us on Instagram
Service & Social Justice Committee: Are you interested in Catholic Social Teaching and how that teaching can inform current events of our community and world? If you would like to serve on this parish committee that meets once a quarter as well as assist with our many parish service projects, please contact Kellie Reynolds 410-592-7294 or (best) kreynolds@archbalt.org.
Moms' Ministry: New to the parish? …the area?... a new mom? ..or just looking for a new way to connect with other moms? Please join us! For more information contact Liz Pippin greenpup83@hotmail.com . Upcoming Events:
8/14 Mom's Dinner Out at Sunshine Grill, 6pm. Please RSVP to Liz.
9/4 Regular Monday Night gatherings resume in the Youth & Young Adult Ministry Room
September TBA: Moms' Ministry Picnic!
8/25 Visit the World Youth Day Cross in Washington DC - https://www.wydunite.com/ We are putting together a day-trip for those who wish to travel to DC for this wonderful opportunity! If you are interested, please contact Kellie at 410-592-7294 or kreynolds@archbalt.org or respond on the St. Stephen Young Adult Facebook page. Registration is FREE, but required. Please let us know if you wish to travel with us by bus.
9/9 CRS 75,000 Meal Challenge: Join our team now! We are getting our team ready to participate in the annual meal challenge on Sunday, 9/9/18 at Camden Yards! If you would like to be on the team or be the team captain, please contact Brianna Davis at bdavis4219@gmail.com. For more info go to orioles.crs.org.
Camp GLOW Companions Needed - there is a need for companions age 18 and older at Camp GLOW (God Loves Our World), a week-long residential camp for persons with disabilities sponsored by the Archdiocese of Baltimore. Companions spend the week accompanying camp participants as they enjoy a wonderful week of spiritual fulfillment and social interaction. More information and application forms are available HERE or by contacting Bill Fleming at 410-547-5410 or bfleming@archbalt.org. The sessions for Camp GLOW 2018 at Msgr. O'Dwyer Retreat House are: August 5-10
Youth Ministry
Monthly Online Newsletter: Each month we will POST ONLINE a "Youth Ministry" newsletter, and you can access this anytime from the website. Scroll down from the monthly calendar on the Youth Ministry home page
Young leaders entering grades 6-12 this Fall - Interested in serving as a Peer Minister? Peers are servant leaders, leading among the youth according to your gifts! If interested, please contact Mrs. Kellie at stephenyouth@hotmail.com (best) or 410-592-7294.
Middle School Youth: Mark your calendars for a training day on Thursday 8/9 from 1pm – 5pm at St. John, Long Green. High School Youth: Mark your calendars for a planning meeting on Thursday 8/9 from 6pm- 7:30pm in the Youth Office.
PARENTS: We will not be able to run the peer ministry program without dedicated adults who can
also share their gifts and make a commitment to several hours per month, which may include attending a youth gathering, or a planning session, or both! If interested, please contact Ms. Amanda Burke at amandaburke17@gmail.com or call 443-465-9240
8/10 Guppy Gulch: SOLD OUT!
8/14-15 Middle School Community Workcamp will be held at St. John, Long Green
Join us for two days and one overnight of community service! We'll be working at various service sites over the two days, have a pool party, and celebrate our call to serve through prayer. Cost is $20 to offset cost of meals. Space is limited and adult "Virtus" trained/registered drivers are always needed. If you are interested in attending, please fill out a permission form from our website and return it to the Youth Ministry office by Aug 5.
8/19 Kenya Anniversary Tea – This Parish Service Project needs your help! If you would like to support the partnership and our anniversary this summer, please see the Sign Up Genius for ways to contribute to or participate in the annual tea!
8/26 High School Cookout with Volley Ball – join us for 12:15 Mass in the Church, then gather at the pavilion for a cookout and beach volley ball until 3pm. Please bring a snack to share. Please RSVP by Aug 19 at the sign up genius!
Faith Formation
Students entering grade 8 this Fall: If you were contacted about completing the formation for grade 7 "Visions" over the summer, your packet will only be available for pick up in the Parish Center until Mid-August for make up by Sept 1. Or, if your family would like to re-register for 7th Grade Faith Formation, please let us know. If you have any questions, please contact Mrs. Robin Urbanski at 410-592-7294.
Re-registration forms for Fall 2018 have been mailed to current families, and are due back to the Parish Office by July 31 OR SOONER. Please help us plan best for next year by turning in your paperwork as soon as possible. Classes are held from September through April on Sunday mornings for grades PreK through 8th and Tuesday evenings for 7th grade – High School.
The following guidelines apply in order to register early childhood students:
PK 3 children must turn 3 years old by 09/01/2018 and be potty trained.
PK 4 children must turn 4 years old by 09/01/2018 and be potty trained.
Kindergarten children must turn 5 years old by 09/01/2018 and be potty trained
We are looking for volunteers for our catechetical team! Please contact Sr. Angela or Pam if you feel called to resound the Good News and share your faith with the next generation! 410-592-8666.
New to our parish? Families who have recently joined our parish and would like to register their child for Faith Formation can contact Pam Franke at 410-592-7294.
The guidelines from the Archdiocese of Baltimore require that a student MUST have regular attendance in Faith Formation for one year prior to AND the year celebrating each/any Sacrament in a Faith Formation Catechesis program or at a Catholic School. If you are interested in more information or would like a registration form, please contact Mrs. Pam Franke at 401-592-8666.
Confirmation
Confirmation Orientation Packets for 2020 – Your packets are available for pick up in the Parish Center.
Confirmation 2019 Make-up Orientation – If you have not yet picked up your family's packet, we will be sending a Confirmation " delay" form for your signature. If you intend to register your teen for Confirmation preparation this year, please let Robin know when you will be picking up your packet. stephenyouthasst@hotmail.com. Thanks so much for your cooperation – we would like to begin working with catechists and we need to know how many students will be in each small group.