May 2018 Newsletter

Parish Events
5th/6th
- Rosary Guild Meeting, Saturday at 9 AM in the Portable Library
- May Procession & Crowning of Mary, immediately following 12:15 PM Mass
12th/13th
- 2nd Collection for Catholic Communications Campaign & Catholic University of America
- Mother's Day cards are available in the Church, on the back table

- There will be NO Mother's Day flower sale this year
- LAST 10:45 AM Hall Mass on Sunday for the Summer
14th
- Moms' Ministry Meeting, 7 PM in the Youth Ministry Office
20th
- Pentecost Sunday; wear red!
- St. Stephen Concert Series, 5 PM in the Church (check for more info in the upcoming bulletins!)
23rd
- Spiritual Oasis, 7 PM in the Convent *Click here for flyer
28th/29th
- Maintenance collection at all Masses
May Procession & Crowning of Mary
Immediately following 12:15 PM Mass on May 6th. Procession will begin with music and hymns to honor Mary. As the procession leaves the Church, the rosary will be recited as the procession moves toward the statue of Mary for a crowning! There will then be a prayer and final blessing. All St. Stephen Parish, School and Ministries are invited and encouraged to attend, especially those who recently received the sacraments of Baptism, First Holy Communion, Confirmation and the newest members of our Church! Mary, Our Mother, cares for all of her children and leads us to her Son, Jesus! Let us place a smile on her Immaculate Heart and honor her with our presence! For those who cannot attend, please be with us in spirit. Mary, Queen of Heaven and earth, pray for us! For more information, please call Jo Anna Schmidt at 443-286-2901. (If there is inclement weather, the procession and crowning will take place inside the church)
Moms' Ministry
Will meet in the Youth & Young Adult Ministry office, parish center basement at 7 PM. New to the parish, area, a new mom, or just new to this ministry? Please join us! For more information contact Liz Pippin at greenpup83@hotmail.com *NOTE: The only May meeting (and last one for this school year) will be May 14. Have a fun and safe summer!
Adoration of the Blessed Sacrament continues Thursdays
Please stop in the convent to enjoy quiet prayer time with Jesus. Come as you are. Doors open between 6pm – 7:30pm.
Sunday, May 20 is Pentecost Sunday. Wear something red to symbolize and celebrate the gift of the Holy Spirit!

Memorial of the Blessed Virgin Mary, Mother of the Church
On March 3, 2018, Pope Francis declared that the Monday after Pentecost Sunday will be celebrated as the Memorial of the Blessed Virgin Mary, Mother of the Church. The Memorial will be observed annually and has been added to the General Roman Calendar, the Roman Missal, and the Liturgy of the Hours. The Holy Father's wish for this new feast day is that it will foster Marian piety and the maternal sense of the Church. Pentecost was the birth of the Church – the Mystical Body of Christ. As mother of Christ, the Head of the Church, Mary also is the Mother of the Church.
The Descent of the Holy Spirit on Pentecost was magnificent. But what about what happened afterward? The friends of Mary's Son – the ones who had turned on him – are suddenly and deeply converted. They lost their fears, put themselves aside, and bravely stepped out into the streets to proclaim the Good News. These cowards were now bold, courageous men who were fulfilling her Son's dream! And Mary is the proud Mother, glowing with joy, elated over the transformation in the Apostles, and cheering them on as they went forth.
Rice Bowl Thank you
Thank you to all of our generous parishioners who support the Catholic Relief Services Rice Bowl fundraiser each Lent!
Pray for the new Archdiocese of Baltimore Deacons!
All are invited to attend the Diaconate Ordination on May 26th at 10am, Baltimore Basilica, 409 Cathedral Street, Baltimore.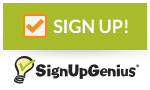 Sign up Genius
Signing up to participate in events or volunteer is getting easier than ever! Click the logo to be taken to our parish events!
Young Adult Ministry
Contact Info: kreynolds@archbalt.org (best)
or 410-592-7294.
* Like our Face Book
* Check out our Pinterest
* Follow us on Instagram
Theology on Tap! Join us at the Main Street Tower Restaurant in Belair at 29 S. Main Street. May 7 & May 14. Meet in the downstairs lounge, entrance is in back at ground level. 7pm Happy Half Hour, 7:30 Speaker, 8pm Q&A and back to socializing! Don't miss our last few speakers!
Service & Social Justice Committee: Are you interested in Catholic Social Teaching and how that teaching can inform current events of our community and world? If you would like to serve on this parish committee that meets once a quarter as well as assist with our many parish service projects, please contact Kellie Reynolds 410-592-7294 or (best) kreynolds@archbalt.org. Our next meeting is May 9th in the Parish Center basement, please contact Kellie for more details.
Youth Ministry
Monthly Online Newsletter: Each month we will POST ONLINE a "Youth Ministry" newsletter, and you can access this anytime from the website. Scroll down from the monthly calendar on the Youth Ministry home page
Rise Up! Middle School Youth Event: Please pray for all the middle school youth gathering at this Archdiocesan event on May 12!
No Mother's Day Flower Sale this year.
Blessings Confirmandi: We are blessed to have been journeying with you as you prepare for the Sacrament of Confirmation. Now that you are anointed for mission, we look forward to helping you share your gifts within our Church and in the community to build up God's Kingdom on Earth!
Eagle of the Cross: Congratulations to Adam Elliott who is the recipient of the Archdiocesan recognition for 2018. He will be honored at a reception with Archbishop Lori, his family, and peers from other parishes on May 16th.
Faith Formation
Re-registration forms for Fall 2018 have been mailed to current families, and are due back to the Parish Office by July 31 OR SOONER. Please help us plan best for next year by turning in your paperwork as soon as possible. Classes are held from September through April on Sunday mornings for grades PreK through 8th and Tuesday evenings for 7th grade – High School.
The following guidelines apply in order to register early childhood students:
PK 3 children must turn 3 years old by 09/01/2018 and be potty trained.
PK 4 children must turn 4 years old by 09/01/2018 and be potty trained.
Kindergarten children must turn 5 years old by 09/01/2018 and be potty trained
We are looking for volunteers for our catechetical team! Please contact Sr. Angela or Pam if you feel called to resound the Good News and share your faith with the next generation! 410-592-8666.
New to our parish? Families who have recently joined our parish and would like to register their child for Faith Formation can contact Pam Franke at 410-592-7294.
The guidelines from the Archdiocese of Baltimore require that a student MUST have regular attendance in Faith Formation for one year prior to AND the year celebrating each/any Sacrament in a Faith Formation Catechesis program or at a Catholic School. If you are interested in more information or would like a registration form, please contact Mrs. Pam Franke at 401-592-8666.
Confirmation
Confirmation Orientations for 2019 & 2020: Invites will be emailed the first week of May. If you have not received yours by May 9, please contact Pam Franke at pfranke@archbalt.org. (For youth currently in grade 6 (for Confirmation 2020) and currently in grades 7-12 for Confirmation 2019)