March 2018 Newsletter

Parish Events
1st
- Eucharistic Adoration, 6-7:30 PM in the Convent
2nd
- Stations of the Cross, 7 PM in the Church
3rd
- Rosary Guild, 9 AM in the Portable Library
8th
- Eucharistic Adoration, 6-7:30 PM in the Convent
9th
- Stations of the Cross, 7 PM in the Church
10th
- Bourbon & BBQ Bash at the School, click here for info!
13th
- Spiritual Oasis, 7 PM in the Convent
14th
- Young Adult Reflection Night, 6:30 PM in the Church
16th
- Stations of the Cross, 7 PM in the Church
20th
- Speaker Series with Dr. John Hayes, 7 PM in the Hall
21st
- Day of Reconciliation, 3-5 PM & 7-9 PM in the Church
22nd
- Eucharistic Adoration, 6-7:30 PM in the Convent
23rd
- Stations of the Cross, 7 PM in the Church
24th/25th
- Breakfast with the Easter Bunny, Saturday 9-11 AM in the Hall
- Maintenance Collection at all Masses
- Palm Sunday, blessing & distribution of palms at all Masses
- Youth Passion Play, 10:45 AM (Hall) & 12:15 PM Masses
29th
- Mass of the Lord's Supper, 7 PM in the Church
- Adoration at the altar of repose, until 11 PM in the Hall

30th Good Friday
- Ecumenical Cross Walk, begins at 1 PM at Franklinville Presbyterian Church
- Stations of the Cross, 3 PM in the Church
- Celebration of the Lord's Passion, 7 PM in the Church
- Collection for Holy Land Shrines
31st Holy Saturday
- Morning Prayer, 7:30 AM in the Church
- Blessing of Food, 12 PM in the Church
- Easter Vigil, 7:30 PM in the Church & reception of candidates and catechumens into the Church
- No 4:30 PM or 6 PM Mass
April 1st Easter Sunday
- Mass in Church: 7 AM, 8 AM, 9:15 AM, 10:45 AM & 12:15 PM
- Mass in Hall: 9:15 AM & 10:45 AM
Lenten PARISH EVENTS: (please see the Lent brochure for a full schedule of events!)
Every Thursday in March – Eucharistic Adoration at 6-7:30pm in convent
Every Friday in March – Stations of the Cross at 7pm in Church
Every Saturday in March – Confessions heard in Church from 3:45 to 4:15
Our Lady, Queen of Families Rosary Guild
Meets on the first Saturday of the month, 9am – 10am, in the Library/Learning Cottage. All are welcome to attend to learn to make & pray the rosary. All ages welcome - Please join us!
Coupons in Flight!
Cutting coupons help support US military families stationed around the world! First Sunday of the Month in the 2nd floor of the school, 9-10am. Can't join us to clip? we'll collect your coupons from the past 4 months: drop them into the collection box in the donation room under the parish center porch. Please note: The coupons must be cut just inside the black dotted/solid line, please do not cut off the corners.
Spiritual Oasis Events
Join us on the 2nd Tuesday of each month now through June for special events and topics. Come to one or all, as many as you can. Meet in the Convent Chapel at 7pm – 8:15pm.
Scouting for Food/Harvest for the Hungry
On March 10 & 11 is an annual community service project of scout troops in their Communities.
Right here at St. Stephen, scouts will be distributing lists of needed non-perishable food items and invite you to shop, bag, and return these items March 3 & 4 at any Mass (look for collection bins). Expired food cannot be donated, so please check dates if giving from your pantry. All donations will be given to the Helping Hands Food Pantry! Thank you for your generosity! Items in most need: Canned meats & seafood, canned vegetables & fruits, peanut butter, jelly, cereal, oatmeal, pasta, pasta sauce, pancake mix, syrup, soup, canned stews, mac & cheese.
Moms Ministry
Is cancelled for the month of March, the group will resume meetings in April! If you have not had a chance to join us before, please feel welcome to drop in at anytime! Need more info, contact Mrs. Liz Pippin at greenpup83@hotmail.com
Living as a Missionary Disciple Speaker Series
On Tuesday, March 20, Dr. John Hayes. will be joining us to share insights on the importance of listening to the other so that we can be better equipped to be disciples who meet people where they are in their woundedness and in ours. Refreshments are served at 6:30 and presentation begins at 7 PM in the Hall. Bring a friend & family member! RSVP requested, click here.
Day of Reconciliation
The Church will be open from 3-5pm and 7-9pm on March 21st for those who wish to drop in and pray or to celebrate the sacrament of reconciliation.
Breakfast with the Easter Bunny
Join us for the 16th Annual Breakfast with the Easter Bunny on Saturday March 24, 2018 from 9 am -11 am. Enjoy crafts, games, door prizes, face painting, age group egg hunts and mingle with the Easter Bunny! $8 advance registration (by March 17). $10 at the door. Under 2 years old free. Proceeds benefit Girl Scout Troop 684. For information call Dana 443-858-9489 or email dana.y.marquette@gmail.com. Click here for flyer!
Lenten Lunches for Weinberg & Franciscan Centers
All ages are encouraged to attend our annual Lenten lunch-making project. Tuesday, March 27, 6-7pm in the Hall. Please click here to RSVP/Participate.
Rice Bowl Collection
Rice Collection boxes were handed out at all Masses February 10th or 11th. If you didn't get one, there are extras in the back of the church and hall. They will be collected April 7th & 8th! Watch for new features this year, including online giving! Making your contribution electronically helps cut down on the cost to count coins and, more importantly, puts your generous donation dollars to work around the world right away.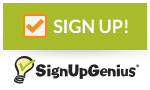 Sign up Genius: Click the logo to be taken to our parish events! You will need to create a username and password. Check the SUG often to see the latest opportunities!
Save the Dates:
* April 6th Rice Bowl Wrap Up Dinner! Families & individuals are invited to gather for a simple meal and contribute either bread, salad, or desert. Drinks will be provided. Please see the Sign Up Genius to RSVP and if you would like to contribute a side. Click here to RSVP
* April 13th, Bingo at the school! Click here for flyer
Young Adult Ministry
Contact Info: kreynolds@archbalt.org (best)
or 410-592-7294.
* Like our Face Book
* Check out our Pinterest
* Follow us on Instagram
Young Adult Reflection Night
Please join us on Wednesday, March 14 in the Church. The CRS Parish Ambassador Council and Young Adult Ministry will be hosting a Young Adult Lenten Prayer Reflection in the church. During the reflection, young adults will be asked to encounter Lent in three different ways including Prayer, Fasting, and Almsgiving. This is a great opportunity to reflect on the journey of lent and make new friendships along the way. Please contact Brianna Davis at 443-791-2394 or briannadavis11605@gmail.com to RSVP.
Given: Unveiling the Meaning of Marriage
March 17th, 8am – 2:30pm at Bishop Walsh High School, 700 Bishop Walsh Rd, Cumberland, MD 21502. Cost is $40 for married or dating couples, $25 for engaged couples. See details here and follow their facebook page.
Theology on Tap is back for the Easter Season!
Mark your calendars for 6 weeks beginning April 9 with Bishop Adam Parker. More details will be available soon.
"On your Mark" 1mi walk/ 5 mi Trail Run
We are looking to create a team of young adults to participate in this inaugural event in honor of Youth Ministry pioneer, Mark Pacione. Event is Saturday, April 14 at DeJon vineyard. The event will also feature an area for kids to play and include end of the day wine tasting for participants over 21 with valid ID. Would you like to be our team captain? Please contact Kellie Reynolds at 410-592-7294 or kreynolds@archbalt.org now so we can participate as a group! Interested participants of all ages can click here!
Service & Social Justice Committee
Are you interested in Catholic Social Teaching and how that teaching can inform current events of our community and world? If you would like to serve on this parish committee that meets once a quarter as well as assist with our many parish service projects, please contact Kellie Reynolds 410-592-7294 or (best) kreynolds@archbalt.org.
Youth Ministry
Monthly Online Newsletter: Each month we will POST ONLINE a "Youth Ministry" newsletter, and you can access this anytime from the website. Scroll down from the monthly calendar on the Youth Ministry home page
Passion Play, a 20+ year parish tradition: practices will be held on Tuesdays at 5:30-6:30 in the Church. Youth in grades 6-12 are encouraged to participate as actors and in other roles. Please click here for more info and to sign up.
3/11 #MSYM - Middle School Youth Ministry: Youth in grades 6-8, get your permission forms in now with your choice of meeting time (9:15 or 10:45). Next event is Mar 11th! We hope you will join us – and make a commitment to actively growing as a missionary disciple! See the website Youth Ministry page for details and forms.
3/16 High School Event: Service Project! – We'll put together "Shoeboxes for Sailors!" Bring as many items from the wish list as you can and a healthy snack to share! Permission forms can be found on the youth ministry page of the parish website. Please RSVP by Wed 3/14 on the Sign Up Genius. Wish list will be on the website and the Sign Up Genius. For more info call the Youth Ministry office at 410-592-7294 or email Mrs. Robin stephenyoutasst@hotmail.com
3/23 High School Evening Retreat: Created to Love – Join other high school youth from the Harford Area to learn more about healthy relationships, good decision-making, the beauty and meaning of abstinence and chastity, and the sacramentality of marriage. Meet at St. John, Long Green from 6pm – 9:30 (please eat dinner before arriving, only snacks will be provided). Please RSVP by emailing Mrs. Robin Urbanski at stephenyouthasst@hotmail.com or calling 410-592-7294 by March 18.
Faith Formation
Tuesday Night (& Sunday Morn) Faith Formation parents: Did you know the Convent Chapel is open on the 2nd Tuesday of the month for special spiritual events for parents just like you? Please stop in on 3/13 from 7-8:15pm. Mark your calendars: 4/10, 5/8, 6/5 (first Tues of June).
Confirmation
Confirmation retreats continue this month! A Sign Up Genius for snack items we need can be found on the Confirmation page of the Sacraments Tab. Thanks for your contributions to make the day more special!
Gold-colored Service Experience Forms Due: March 18th
Confirmation 2018 Date at St. Stephen: May 5th
Confirmation 2018 Date at Cathedral of Mary our Queen: May 20th