January 2018 Newsletter

Parish Events
Dec 29th
- Parish Center closes at Noon for New Year's Holiday
Dec 31st/Jan 1st
- Solemenity of Mary; Not a Holy Day of Obligation this year - normal weekend Mass schedule
1st
- Parish Center closed for New Year Holiday
4th
- Adoration, 6 - 7:30 PM in the Convent Chapel
5th
- Family Movie Night, 6:30 PM in the Hall
6th
- Our Lady of Family Rosary Guild meeting, 9 AM in the Portable Library
8th
- Moms' Ministry, 7 PM in the Youth Ministry Office
- Baptism Class for parents and godparents, must RSVP through Parish Center, 7 PM in Church
11th
- Adoration, 6 - 7:30 PM in the Convent Chapel
13th/14th
- 2nd Collection for Special Care for Diocesan Priests at all Masses
15th
- Parish Center closed for Martin Luther King, Jr. Day
18th
- Adoration, 6 - 7:30 PM in the Convent Chapel
19th
- Eucharistic Adoration for those suffering the effects of abortion, 8 AM - 6 PM in the Church
20th/21st
- Respect Life collecting for Pregnancy Center wish list at all Masses
22nd
- Moms' Ministry, 7 PM in the Youth Ministry Office
25th
- Adoration, 6 - 7:30 PM in the Convent Chapel
27th/28th
- Maintenance Collection at all Masses
January 1st is World Day of Peace

Our Holy Father reminds us – Pope Francis urges us to turn a "contemplative gaze" toward our migrant and refugee brothers and sisters and to respond to their plight with four "mileposts for action." Which include welcoming, protecting, promoting, and integrating. See the information in this bulletin to learn more!
Baby Shower Coming on January 20/21!
Our annual baby shower will take place on the weekend of January 20/21. Please click here for more information!
Moms Ministry
Is reading and discussing the book 'Those Who Saw Her: Apparitions of Mary' by Catherine M. Odell. We are continuing to have meetings on the 2nd and 4th Mondays each month. Upcoming gatherings in the Youth & Young Adult Ministry Office: January 8 & 22. If you have not had a chance to join us before, please feel welcome to drop in at anytime! Need more info, contact Mrs. Liz Pippin at greenpup83@hotmail.com
Our Lady, Queen of Families Rosary Guild
Meets on the first Saturday of the month, 9am – 10am, in the Library/Learning Cottage. All are welcome to attend to learn to make & pray the rosary. All ages welcome - Please join us! For more information contact Mrs. Mary Bauer at 443-456-4398 or marybob73@aol.com
Coupons in Flight!
Cutting coupons help support US military families stationed around the world: First Sunday of the Month in the 2nd floor of the school, 9-10am. Can't join us to clip? We'll collect your coupons from the past 4 months: drop them into the collection box in the donation room under the parish center porch. Please note: The coupons must be cut just inside the black dotted/solid line, please do not cut off the corners. Coupons collected in November can be as old as July. For more information, please contact Mary Marston at moistureproof@verizon.net
Spiritual Oasis: Eucharistic Adoration
will continue in the Convent Chapel on Thursdays, 6pm – 7:30pm. Watch for additional upcoming events!
Family Movie night hosted by Moms' Ministry!
A timeless, classic fairytale retold. Doors open at 6:30, movie at 7pm in the Hall on
January 5th. Bring blankets or your favorite folding chair. Popcorn and drinks provided compliments of Moms' Ministry. Feel free to bring your own snacks or your dinner! RSVP on the Sign Up Genius, or contact Liz Pippin at greenpup83@hotmail.com.
Eucharistic Adoration for those suffering the effects of abortion
Eucharistic Adoration for healing for those suffering the effects of abortion will be offered in the Church following 7:30am Mass until Benediction at 6pm. Special prayers will be available throughout that time. Please consider stopping in at any time during exposition throughout the day to spend some quiet time with Jesus in the Blessed Sacrament and join your prayers with those at the March for Life in Washington DC.
March for Life in DC on January 19th
If you are looking for bus transportation: St. Ursula's parish, Contact Liz Walz at ajwalz1@verizon.net OR Immaculate Conception Towson Mass will be at 8:30am with a Novena in the Adoration Chapel right after Mass. Then on to the Parish Hall for breakfast provided by our Sodality. Bus boarding at 10:30am. Contact: Marci Towle, 410-853-7444/ © 443-470-2250 or email at marcit311@comcast.net. Suggested parking in the garage on the corner.
Winter Coat & Blanket drive with our Sister Parish, St. Benedict!
THANK YOU for your continued support of the neighbors of St. Benedict! Your generosity shows the true meaning of Christmas!
Advent Angel Summary and Thanks!

Thank you to all who took an Advent angel and delivered a gift or two or three. We had an exceptionally large number of requests this year, and we were able to help 41 families and also mothers and babies at a nearby pregnancy center with a total of 1150 gifts. Many have asked for family particulars. Please know we do our best to interview and qualify the families from local schools and the surrounding area. The committee has also received many suggestions on how to improve the program. Look for a list of changes in a January bulletin.
Adults Needed for Kid's Bingo Event!

We'll hold our annual bingo event for families with kids on Feb 10 (snow date 2/17) and we need lots of "shield-trained" adults in order to make it a success! Please see the SignUpGenius to view ! Thanks for your support!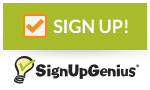 Please visit the Service Page of the Parish Website OFTEN to see current opportunities and to sign up! Sign up Genius: Signing up to participate in events or volunteer is easier than ever! Check the SUG often to see the latest opportunities!
Young Adult Ministry
Contact Info: kreynolds@archbalt.org (best)
or 410-592-7294.
* Like our Face Book
* Check out our Pinterest
* Follow us on Instagram
Help Wanted: A young adult volunteer who uses/posts to social media daily. Looking for someone to help relay our activities to others. Please email Kellie if interested kreynolds@archbalt.org
Finding and Committing to Your Purpose: January 6, 2018 @ 9:30 am - 4:00 pm at Bon Secours, 1525 Marriotsville Road. This retreat day will explore the potential residing within each of us to discern and distill our soul's unique, God-given purpose, to articulate this and mindfully utilize this day-by-day as a personal GPS. We will listen to the wisdom of those who have contemplated and advocated the intentional search for one's ideal, and begin creating our own mission statement for the continued journey in this new year. Guided by Amy Kulesa. Registration is free, call 410-442-3120 to reserve your spot.
Service & Social Justice Committee: Are you interested in Catholic Social Teaching and how that teaching can inform current events of our community and world? If you would like to serve on this parish committee that meets once a quarter as well as assist with our many parish service projects, please contact Kellie Reynolds.
Youth Ministry
Monthly Online Newsletter: Each month we will POST ONLINE a "Youth Ministry" newsletter, and you can access this anytime from the website. Scroll down from the monthly calendar on the Youth Ministry home page
1/14 #MSYM - Middle School Youth Ministry: Youth in grades 6-8, get your permission forms in now with your choice of meeting time (9:15 or 10:45). Next event is Jan 14th! We hope you will join us – and make a commitment to actively growing as a missionary disciple!
Mount 2000: Live the Drama: A Eucharistic retreat for high school youth will be held Feb 9-11 at Mount St. Mary's University. We will be traveling by carpool with St. Mark, Fallston. Spaces are very limited. If you are interested in attending, please check out the info at www.mount2000.com, and let us know you would like to attend by calling or emailing the Youth Ministry office at 410-592-7294 or stephenyouth@hotmail.com
1/24 High School Dinner: Join us for the annual pot luck dinner! All high school students are invited to RSVP at the sign up genius link, or contact Mrs. Robin 410-592-7294 or stephenyouthasst@hotmail.com PARENTS are invited to donate a dish from our wish list, a separate sign up genius has many items to choose from. Thank you for your generosity! If you would like to chaperone the dinner, please let us know and be sure your volunteer training is up to date!
Student RSVP
Pot Luck Donations
Thank you 7th Graders: Some of the students of St. Stephen School, Rosalee, Maddie, Brianna, and Lucy, in addition to the monthly class project to provide 150 lunches to the Weinberg Housing & Resource Center, have hand-made over 100 scarves for the residents!

1/20-21 Baby Shower Parish Service Project: It's time for our annual baby shower! We'll be publishing a wish list from the local pregnancy center and we invite families to purchase any item and drop it off in the gift bags the weekend of Jan 20-21. Greeters needed at each Mass to thank people for their generous gifts, see the SignUpGenius.
Monday, Jan 22 at 3:30pm, we will load the gifts, travel to the center to present them and get a tour of the facility. You must sign up in advance, as space is limited, see the SignUpGenius. Permission form required. This event is open to youth in grades 6th - 12th. You must sign up in advance, as space is limited, see the SignUpGenius. Permission form required. This event is open to youth in grades 6-12. Watch the bulletin and website for updates on this project!
Faith Formation
High School Small Group will meet the following dates: Jan 9th , 16th , 23rd in the Art Room, 2nd floor of school, 7-8pm. All High School students are welcome!
Last Faith Formation Sessions for 8th graders: Sunday Jan 14 & Tuesday Jan 9* (*Please note: Tuesday, Jan 9th is open to both Sunday & Tuesday Faith Formation families of grades 6-8 for the annual human sexuality catechesis. You will receive information via email. A parent must attend with their child for this session. Confirmation Sessions begin after Faith Formation sessions end.
Confirmation
1/6 & 1/7 Confirmation Enrollment Weekend: please choose a Mass time to attend with your sponsor & family. Sponsors & candidates will have reserved seating in the front. If you sponsor cannot attend, please ask a parent or other family member to sit with you. Choose your mass time online at the Sign Up Genius: "Confirmation 2018 Enrollment Mass"
Confirmation Reservation Forms were mailed home in November and are due no later than January 7th. Reservations for Mass & retreat times are taken on a first-come basis. Forms must be mailed, no reservations taken over phone or email.
4 Confirmation Sessions begin in January! Mark your calendars for the 4 Immediate Prep sessions you have chosen (either Sundays: Jan 21 & 28, Feb 4 & 11 OR Tuesdays: Jan 23 & 30, Feb 6 & 13). We only have 4 fun-filled, jam-packed, prayer-filled sessions and we would like you to make these 4 sessions your priority! Information about where to go for pizza and how to sign in will be sent via email. Your sponsors are invited to your last session, but it is not a requirement they attend.
Confirmation 2018 Date at St. Stephen: May 5th