August 2017 Newsletter

Parish Events
5th/6th
- 2nd Collection at all Masses for Black & Native American Missions
12th/13th
- Little Sisters of the Poor at all Masses.

14th
- Moms' Ministry Meeting, 7 PM in the Youth Ministry Office
- Solemnity of the Assumption Mass (Holy day of obligation) at 4 PM
15th
- Solemnity of the Assumption Mass (Holy day of obligation) at 7:30 AM & 7 PM
19th
- Moms' Ministry Pilgrimage to St. Anthony Shrine
20th
- Kenya Partnership Anniversary Tea, Church basement after 10:45 AM Mass
- Our Daily Bread Casseroles due, Sunday, under the Parish Center Porch
26th/27th
- Maintenance Collection at all Masses
28th
- Moms' Ministry Meeting, 7 PM in the Youth Ministry Office
Faith Formation Catechists Needed!
Preparations are being made for Fall 2017 sessions of Faith Formation. Catechists are needed! Do you have a desire to share the Gospel message with children and youth? Do you want to deepen your faith? Do you want to be a role model for families in our parish? We can help you fulfill these desires! If your time is limited, co-teaching may be the answer. There may be some classes that will be cancelled if we do not have sufficient catechists. Contact Sr. Angela for more information at 410-592-8666.

New Shoes for Villa Maria Children & Teens
We're collecting new athletic shoes & a pair of socks for each child & teen at Villa Maria. Please consider donating a pair. Details about sizes & donation drop off info HERE. Now through Aug 31.
Monthly lunch service at East Side Shelter
Please see the signupgenius to choose a Sunday that you would like to join us in this wonderful opportunity to serve! Upcoming Dates: August 6 and Sept 3.
Moms' Ministry Summer meetings
We are meeting on the 2nd and 4th Mondays of each month at 7p in the Youth and Young Adult Ministry office. Summer Dates: August 14 & 28. Moms of all ages and stages are welcome and there is no cost to attend. We look forward to meeting you! There will be a Moms Ministry Pilgrimage to St. Anthony Shrine in Ellicott City on August 19th. We will be meeting in the Church parking lot at 9am, please remember to pack a lunch. Contact Liz Pippin at greenpup83@hotmail.com for more info.
Catholic Engaged Encounter
Is an international program committed to preparing couples for the sacrament of marriage. Engaged couples attend a weekend retreat that fosters openness and communication through a series of presentations, private reflection and dialog time. Catholic Engaged Encounter is an approved marriage preparation program within the Baltimore Archdiocese. Upcoming retreat dates: September 8-10. Weekends fill quickly. Register early! For more information or to register for a weekend, please visit our website at www.mdcee.org or call 410-439-4217
Kenya Partnership Anniversary Tea August 20th!

In honor of the Kenya Partnership's 18th Anniversary, we invite you to a Kenya Tea Social to say "assante," thank you! Please stop by in the church basement after 10:45 Mass on August 20th to enjoy tea, light refreshments and fellowship. Your continued support of our partnership is greatly appreciated! All are welcome!
Concert for the whole family to enjoy at St. Ignatius!

Audrey Assad and her band will perform at St. Ignatius, Hickory at 7pm on Aug 20th, doors open at 6pm. Tickets are $20 per person, or $60 for a family of 3 or more. Check out details & link to tickets on their website. To hear Audrey, check out her website.
Sign up Genius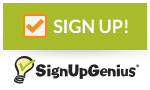 Signing up to participate in events or volunteer is getting easier than ever! Just go to our parish site and scroll down until you see the "sign up genius" logo. Click the logo to be taken to our parish events!
Please visit the Service Page of the Parish Website OFTEN to see current opportunities and to sign up!
Young Adult Ministry
Young Adult Ministry Contact Info:
Kellie Reynolds kreynolds@archbalt.org (best)
or 410-592-7294.
Follow us on twitter @ststephenyya
Like our Face Book Page ststephenyoungadultministry
Check out our Pinterest Page ststephenmd
Help Wanted: A young adult volunteer who uses/posts to social media daily. Looking for someone to help relay our activities to others. Please email Kellie if interested kreynolds@archbalt.org
Camp GLOW Companions - there is a need for companions (age 18 and older) at Camp GLOW, a week-long residential camp for persons with disabilities sponsored by the Archdiocese of Baltimore. Companions spend the week accompanying camp participants as they enjoy a wonderful week of spiritual fulfillment and social interaction. More information and application forms are available at http://www.archbalt.org/…/disabilities-…/camp-glow/index.cfm or by contacting Bill Fleming at 410-547-5410 or bfleming@archbalt.org. The sessions for Camp GLOW 2017 at Msgr. O'Dwyer Retreat House are: August 6-11th

Young Adult Lunch-making Project: Join us on Thursday, Aug 17 at 10am to make 150 lunches for the Weinberg Housing and Resource Center! The SignUpGenius includes a full grocery list, please sign up to bring some of the items from the list. We'll meet in the Youth & Young Adult Ministry Office, ground floor of the parish center. Can't join us at that time? Please consider purchasing items from the grocery list and drop them off the day before. Thank you!
Catholic Artist's Society forming at St. Stephen: Young Adult artists, please consider coming to an informational/informal gathering July 20th, 7pm, in (not library, no a/c) to discuss ideas for sharing art and supporting the arts at St. Stephen! Contact John Terebetsky, jterebetsky@hotmail.com if interested.
Save the Dates – Saturdays in September
Saturday, Sept 2 CRS & the Orioles team up to fight hunger!
After a great event last year, Catholic Relief Services and the Baltimore Orioles are partnering again in the fight against hunger with the 25,000 Meal Challenge. This challenge also celebrates the 25th anniversary of Oriole Park at Camden Yards. Help us raise enough money to send 25,000 meals to the hungry women, men and children of Burkina Faso, West Africa. Join us for our spirited meal-packaging event featuring Orioles Hall of Famer Mike Bordick and the Oriole Bird. Any team that raises $500 will receive 10 free tickets for the Orioles' September 6th game against the New York Yankees, and 2 more tickets will be provided for each additional $100 raised. Sign up or donate today at orioles.crs.org! Event Time: 10 a.m. to Noon Where: Orioles Park at Camden Yards
Saturday, Sept 9 Little Sisters of the Poor 4th Annual "Nun Run"
Cathedral of Mary Our Queen, 5200 N. Charles Street! Start time for the 5K and 1 mile run/walk is 8:00 am. Enjoy music by DJ Ray, a pre-race warm-up with Roxana of Brick Bodies, entertainment by Bobalouie the Clown, raffles and refreshments. Please support the Residents of St. Martin's Home and run for the Nuns!
· Visit www.littlesistersofthepoorbaltimore.org for additional information.
· Register at www.charmcityrun.com.
· Contact 410-744-9367 ext. 126 with questions.
· Encourage your friends/family to pledge their monetary support as YOU participate in the Nun Run.
Youth Ministry
Monthly Online Newsletter: Each month we will POST ONLINE a "Youth Ministry" newsletter, and you can access this anytime from the website. Scroll down from the monthly calendar on the Youth Ministry home page
Youth entering grades 9-12 this Fall – Are you interested in serving as a Peer Minister? Contact Mrs. Kellie for more information, and mark your calendar for a training/retreat day on Thursday 8/3. stephenyouth@hotmail.com (best) or 410-592-7294.
Guppy Gulch, Friday 8/4: 10am - 3pm. Cost is $22 per person which is the entrance fee, please bring your lunch & drink, some snacks will be provided. Transportation not provided, so please meet there. Note: There is a swim test all participants must take, which determines what areas of the lake you may enter. Chaperons needed. **Please Note: You MUST register to attend with our group, this venue is not open to the public. RSVP by July 31 so we know to expect you! stephenyouthasst@hotmail.com (best) or 410-592-7294.Please go to the website below to download the GUPPY GULCH waiver, and also bring an Archdiocesan Permission Form found here Location: 95 Guppy Valley Delta, PA 17314 1-410-458-8881
High School Mission Week, Sun 8/6-Wed 8/9: Full schedule and packing list are on the website. This multi-venue experience includes the East Side Shelter in Baltimore, Jesus House in Wilmington, DE, and Camp GLOW in Sparks. Space is limited since 3 parishes are participating together. Don't miss out! Sign up by sending your money and permission form to the Youth Ministry office (ground floor of the parish center) asap! Spots will be given on a first-come basis.
Camp GLOW 8/9: Middle School youth are invited to join us at O'Dwyer Retreat House for a day of service with the adults of Camp GLOW. God Loves Our World is a sleep-away camp for adults with mental disabilities. On Wednesday 8/9 we will participate in arts and craft activities in the morning, followed by Mass with one of our Bishops, then lunch. After lunch enjoy swimming, pool-side games, or indoor activities. ADULTS chaperons needed for this event, must be "Shield the Vulnerable" trained. No transportation provide, please meet at O'dwyer at 9am and get picked up at 3pm. RSVP by Sun 8/6 - turn in your permission form to the Youth Ministry office, there is a mail slot on the bottom of the office door! This is a Confirmation "Parish Service Project."
#HAY Pool Party 8/19: Join us for the annual pool part to celebrate summer! The event is free, please bring a snack and drink o share. Pool side DJ! Event is from 8:30-11:30pm at the Box Hill Community Pool, 2920 Strathaven Lane, Abingdon.
Kenya Partnership Anniversary "Afternoon Tea" 8/20: All are invited to join us for tea and cookies in the Church basement following 10:45am Mass. Youth Volunteers needed! Would you consider baking cookies, or helping to set up, serve, clean up, or all of the above? Please rsvp to Mrs. Mary Bauer 443-456-3498 or marybob73@aol.com.
Confirmation Notices
Confirmation candidates for 2018 & 2019: If you did not attend the May Orientation session, your packet of materials can be found in the doorway of the Youth/Young Adult office (ground floor of parish center). Please pick up materials asap so we know your child is interested in preparing for Confirmation. Since 2 months has passed, please inform us if your family will not be participating in sacramental prep for this year so we can reassign your family to the following year. Thank you for your attention to this matter. Contact Robin Urbanski: 410-592-7294
Check out these pictures from our Youth Ministry Work Camp!