May 2017 E-Newsletter

May Parish Events
6th/7th
- Parish Council Election at all Masses
- Rosary Guild Meeting, Saturday at 9 AM in the Portable Library
- May Procession & Crowning of Mary, immediately following 12:15 PM Mass
13th/14th
- Mother's Day cards are available in the Church, on the back table

- Mother's Day flower for sale after all Masses
- LAST 10:45 AM Hall Mass on Sunday for the Summer
20th/21st
- 2nd Collection for Catholic Communications Campaign & Catholic University of America
- Moms' Ministry Tea, Saturday 1:30 PM in the Portable Library
27th/28th
- Maintenance Collection at all Masses
May Procession & Crowning of Mary
Immediately following 12:15 PM Mass. Procession will begin with music and hymns to honor Mary. As the procession leaves the Church, the rosary will be recited as the procession moves toward the statue of Mary for a crowning! There will then be a prayer and final blessing.All St. Stephen Parish, School and Ministries are invited and encouraged to attend, especially those who recently received the sacraments of Baptism, First Holy Communion, Confirmation and the newest members of our Church! Mary, Our Mother, cares for all of her children and leads us to her Son, Jesus! Let us place a smile on her Immaculate Heart and honor her with our presence! For those who cannot attend, please be with us in spirit. Mary, Queen of Heaven and earth, pray for us! For more information, please call Jo Anna Schmidt at 443-286-2901. (If there is inclement weather, the procession and crowning will take place inside the church)
Adoration of the Blessed Sacrament continues Thursdays
Please stop in the convent to enjoy quiet prayer time with Jesus. Come as you are. Doors open between 6pm – 7:30pm.
Coupons in Flight
Sorry, there will be no May meeting. The group will not meet May – Sept. We'll continue to collect your coupons from the past 4 months, drop them into the collection box in the donation room under the parish center porch. Please note: The coupons must be cut just inside the black dotted/solid line, please do not cut off the corners. Coupons collected in May can be as old as January. For more information, please contact Ms. Mary Marston at moistureproof@verizon.net
Our Lady, Queen of Families Rosary Guild

All are welcome! Meets each month, usually the first Saturday, in the Library/Learning Cottage from 9-10 AM. This month is May 6th. No experience necessary. Learn to make and pray the rosary. For more information please contact Mary Bauer marybob73@aol.com or 443-456-3498.
Moms' Ministry Tea
The Moms' Ministry invites you to Afternoon Tea on Sunday, May 21st, anytime between 1:30 PM and 3:30 PM. Moms of all ages and stages are invited to gather for some relaxing time with other moms! Join us in the Portable Library for some traditional tea fare and activities. For more information contact Liz Pippin at 443-768-4421 or greenpup83@hotmail.com
Our Daily Bread Hot Meal Program
Operated by Catholic Charities, is in need of people to prepare and deliver casseroles each month. Our Daily Bread provides meals to between 700 and 800 people in Baltimore every day, 365 days a year, and has not missed a day of service in 32 years. Please consider shopping for ingredients and assembling a casserole at home to be frozen and dropped off to our pantry freezer at the Parish Center. Recipes and pans are located in the back of the Church and Hall.
Did you know??
Your poor box donation helps many people in need right here in our local area. Your donations are distributed to local agencies by the Ladies of Charity, and are stretched to meet many requests. Thank you for your generosity!
Vacation Bible School
St. Stephen School Invites Families to Rome: Paul and the Underground Church! Click here for info!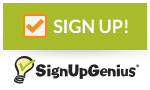 Sign up Genius
Signing up to participate in events or volunteer is getting easier than ever! Click the logo to be taken to our parish events!
Young Adult Ministry
Young Adult Ministry Contact Info: Kellie Reynolds kreynolds@archbalt.org (best)
or 410-592-7294.
Follow us on twitter @ststephenyya
Movie & Discussion Night "Before the Flood"
Take a journey with Leo DiCaptiro and National Geographic to view what's impacting the
environment around the world and here at home. Pope Francis said in Laudato Si, "Our common home is like a sister with whom we share our life and a beautiful mother who opens her arms to embrace us." Join us for the movie and discussion on Friday 4/29 at 7pm in the library/leaning cottage. Refreshments provided, please rsvp: Nicoletta Minutella at nminut1@students.towson.edu No email? Call Kellie 410-592-7294.
Theology on Tap, Summer Six Pack?
Your input is needed! We had a great Lenten session and are looking for topic ideas to see if we can run a summer session. Please post your ideas on the Harford Area Catholic Young Adult Facebook page, or email kreynolds@archbalt.org
Help Wanted!
A young adult volunteer who uses/posts to social media daily. Looking for someone to help relay our activities to others. Please email Kellie if interested.
Eagle of the Cross
Congratulations to Brianna Davis who is the recipient of the Archdiocesan recognition for 2017. She will be honored at a reception with Archbishop Lori and her peers from other parishes on May 17th.
Youth Ministry
Monthly Online Newsletter
Each month we will POST ONLINE a "Youth Ministry" newsletter, and you can access this anytime from the website. Scroll down from the monthly calendar on the Youth Ministry home page.
Young Neighbors in Action 6/25-7/1
High School Youth are invited to participate in a week of service in Baltimore City with other youth from around the country! We will be hosted at Archbishop Curley High School, participants MUST reside at the camp for the duration of the week; there will be no in/out privileges. Each day includes 3 meals plus snacks, transportation to/from the worksite, free time, evening activity, prayer and worship experiences and community building. Cost is $395 per person, fundraising available through Mother's Day Flower Sale. You can view the daily schedule and general info here. Space is limited so please RSVP with your interest and a $100 deposit by March 31. ADULTS: Shield trained volunteers & drivers are needed to accompany us for the week. We are not able to provide the week-long program without a minimum of 2 dedicated adults who can participate in the daily service and activities as adult participants. If interested, please contact Kellie by MAY 1.
"Worthy of the Call" youth volunteer training
We have limited spots for youth who are turning 14 before the end of the school year and would like to volunteer over the summer. Video training will be held on Fri 5/5 at 5:30pm in the Youth Ministry office. You MUST rsvp in order to attend so we have enough materials for everyone. Please contact Mrs. Robin at 410-592-7294 or stephenyoutasst@hotmail.com
Middle School Ministry
Join us for our monthly gathering of 6-8 grade youth. We'll meet in the Hall follow 10:45 Mass. May's activity will be extended to include the May procession at 1pm. Lunch will be served. Bring a soccer or kickball to share if you can. Every participant is asked to bring a non-perishable food item for Helping Hands. Enjoy games outdoors and an inflatable (weather permitting) RSVP required by May 1 by returning your permission form to the Parish Center. We must have a minimum of 6 parish teens in order to run this event. Questions? Please contact Mrs. Colleen Everson at colleen.everson@gmail.com or call 410-592-7295.
Mother's Day Flower Sale
Please join us after Mass on May 13-14 to assist with our annual flower sale. NEW this year, we will also support a CRS human trafficking project by selling ethical trade Prosperity Candles for $12.00 in a variety of scents or unscented while supplies last. Please go to the signupgenius (click the icon on the bottom left corner of the parish webpage) and sign up! This is a Parish Service Project for Confirmation.
Confirmation
May 2017 – We offer our heartfelt Blessings to all those who will be confirmed this month and on Pentecost! Please continue to share your gifts as disciples in mission, for the benefit of furthering Jesus' work on earth. St. Stephen parish is blessed by the young church!
Confirmation 2017 Upcoming Events:
Thursday, May 11: Reflection Night with Sponsors, 7-9pm in Church. Confirmation tickets distributed at this time.

Saturday, May 13: 10am OR 2pm Confirmation Mass at St. Stephen! Sponsors and Candidates have reserved seats up front. Everyone else will need a ticket for their assigned seat.

Sunday, June 4: Confirmation Mass at Cathedral! You must have pre-registered for this Mass.
Confirmation Service Experience Forms
Your service hour experience forms (gold) were due to Mrs. Robin by 3/14. Need more time? Please contact Mrs. Robin at stephenyouthasst@hotmail.com Lost your form? You can download and print one from the "Sacraments" page of the website, then click "Confirmation."
Current 6th grade youth who attend Catholic school, Faith Formation, or are completing a religion curriculum at home or in private school, are invited to attend, with a parent, the Confirmation 2019 orientation on Sunday 5/21. Invitations were mailed out, if you did not receive one or if you need to rsvp, please contact Mrs. Pam Pfranke@archbalt.org to choose a time, space is limited. We look forward to seeing you there!
Current 7th – 9th grade youth who attend Catholic school, Faith Formation, or are completing a religion curriculum at home or in private school, and participated in remote preparation last year, are invited to attend, with a parent, one of the evening Confirmation 2018 orientations May 22-24. Invitations were mailed out, if you did not receive one or if you need to rsvp, please contact Mrs. Pam Pfranke@archbalt.org to choose a date, space is limited. We look forward to seeing you there!
Faith Formation Notices
Attention ALL High School students: Our weekly small group has ended for the school year. Please join us for activities over the summer! We will resume meeting again in September. ALL high school students are welcome.
Tuesday Faith Formation for Visions students (grades 6-7) has ended for the year.
Sunday Faith Formation for Visions students (grades 6-7) last session is April 30.
Next Home Study Faith Formation session: Friday, May 5 at 7pm. Please RSVP to Mrs. Kellie if you have not already kreynolds@archbalt.org